Union bindings has lots of new stuff at better pricing than ever! Here we go through our top 6 bindings for this winter.
Staff Picks: Our Top 6 Favorite Union Bindings For 2019/2020 

Union bindings are the most sought after bindings year over year. We consistently sell out of these things before Christmas every year. Not only that, but we get a ton of great feedback on how they ride, feel and last. This year we decided to put together a list of our Top 6 Favorite Bindings For The 2019/2020 Season!

The first thing you might notice looking at all the Union bindings over the past couple seasons is how much better the straps got. Union did a lot of research and development on their straps to make them thinner, stronger and more comfortable. You'll also notice the ratchets on them are always attached directly to the nylon skeleton on the strap, making them super strong.

A little back-story on Union Bindings:
Union made their name in the binding world when two designers from Drake Bindings left to start their own thing. After their no-compete clause ended Martino Fumagalli and George Kleckner had a "re-union" in Seattle, Washington to launch the brand. With a logo designed by the famous Aaron Draplin, they set out to make the world's highest quality bindings possible. Over the years they've been working to bring the highest-end materials possible to snowboard bindings, such as extruded aluminum, injected magnesium and forged carbon.

SHOP UNION BINDINGS HERE

UNION FALCOR BINDINGS:


The highest end bindings we carry, The Falcor is personally designed by Travis Rice himself down to every little detail and named after his yacht. You'll notice on these bindings that they have lots of small differences from every other union product in the line, because he worked one on one to design every little detail. You'll notice stuff like the ratchets are slightly bigger than every other binding because he likes to wear big mitts, or that the forward lean adjuster is smaller than any other bindings because he needs to keep them low profile for the style of riding he does. These aren't quite the lightest bindings on the market, and they aren't the stiffest, but they might be the stiffest binding for their weight. Did we mention they are still incredibly light, even the highbacks are hollowed out and made with forged carbon, a product originally developed by Lamborghini because it's super light and super strong. We've got to say, if these bindings are good enough for Travis Rice's insane attention to detail, they should be good enough for anyone.
See More Here

UNION STRATA BINDINGS:


As of last year, the Strata took over the place of the Contact Pro in the line at the $360 price range. Torstein Horgmo dedicated insane hours to working with Union to design these bindings. Union even got him to wear a motion capture suit while testing these bindings to see exactly what parts of the bindings get pressure while under the pressure of Torstein's riding. They took that data, and developed an algorithm to place the holes in the highback and make it the exact torsional stiffness needed to perform at his level. This is the all mountain binding that you can put the test anywhere and still have fun riding it tweaking grabs with your friends. Since it's inception, it's become the #1 most requested binding by team riders and shop employees.
See More Here


UNION FORCE BINDINGS:

The Union force is almost a brand of it's own at this point. A binding that has been in the line since the start (15 years) and is our #1 selling binding year after year. The Force is the best priced binding that still gets the full Union tech package, this means Magnesium ratchets, full 4 corner bushings on the base of the bindings, toolless highback and strap adjusters, along with the famous Duraflex ST base (see below). They've also updated the straps on the Force (like most Union bindings lately), so they look really good and feel insanely comfortable. When you hold this binding in your hand, you can tell why it's the #1 binding around, we call it "The One Binding To Rule Them All".

Duraflex ST is a nylon material that Union spent years and tons of money inventing with the help of Dupont engineering. This material is what made for their famously durable bases and lifetime warranty.
See More Here


UNION CONTACT PRO BINDINGS:


Originally designed by Gigi Ruff, the Contact Pro was top seller at the $360 price point for years. Since the introduction of the Union Strata last season, they have been able to bring the price down on these to $289, making it possibly the best value binding on the market. The Contract Pro binding is famous for introducing the Union Mini Disc. It also gets it's name because only 5% of the base material actually touches your board, the rest is a soft bushing that allows the base of the binding to flex under your feet, giving it an amazing surfy feel. These were also the bindings that brought out the now super popular Union mini discs. Like the Force bindings, the strap got redone this year and looks really amazing, super thinned out and mega comfortable.  

This is also the binding where you can get a Scott Stevens pro model colorway, which is always super popular.
See More Here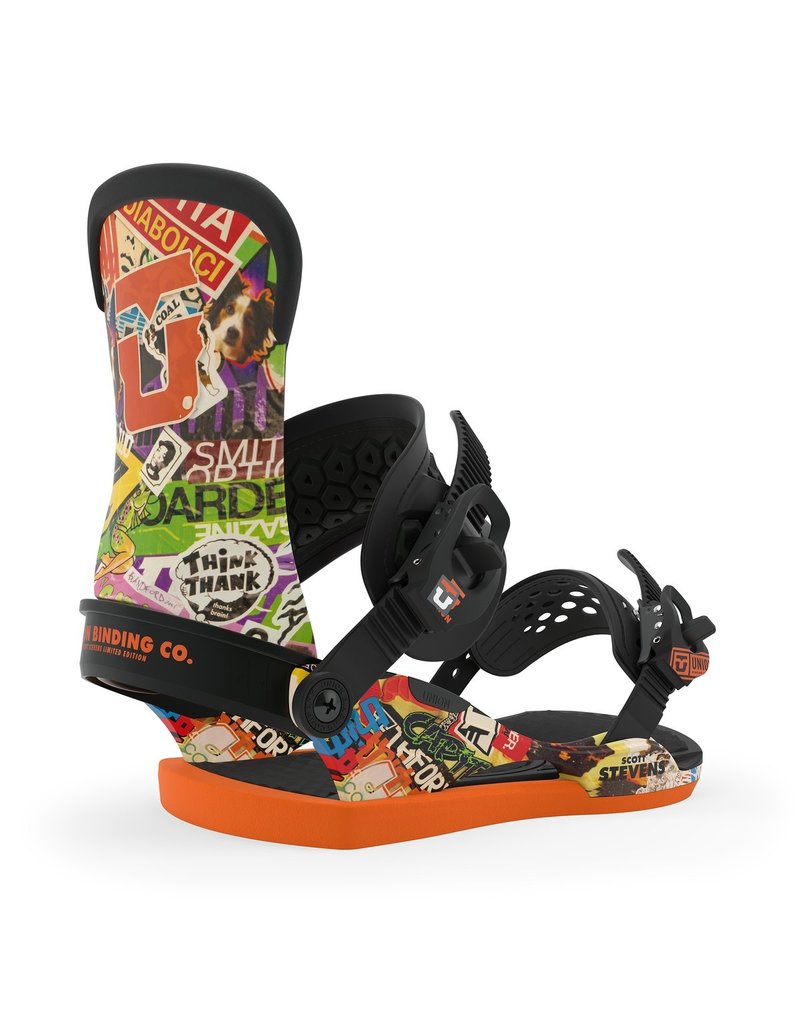 Union Scott Stevens Pro Bindings 19/20
UNION FLITE PRO BINDINGS:


The Flite Pro bindings, aka the fucking light bindings, are the ultimate bindings for someone on a budget. New for this year, they brought the price down from $230 to $199.95. I think it's safe to say that these are the best binding on the market for under $200. Originally designed by Gigi Ruff, he designed the highback to look like a BBS car rim.  These are a softer flex and playful binding perfect for cruising the park and groomers. Even though they come in under $200 they still have the Union Warranty that their bindings are famous for.
See More Here
Thanks for reading! We hope you enjoyed this and taught you a little something about the new Union Bindings line! Leave a comment below telling us how much you enjoyed it or how bad we suck!

Also, sign up for our newsletter for updates on new gear and limited sales stuff!